The entire UTV industry is exploding in Mexico. UTV enthusiasts are flocking to Mexico to enjoy that amazing riding experience and warm welcoming Mexican culture. Having the ability to drive your UTV in some of the most pristine and beautiful areas in the world is for sure a huge attraction. Mexico is full of some of the worlds most incredible off-roading destinations. In Mexico the off-road enthusiast can head south to sightsee, ride with friends and family, join a UTV tour adventure, or experience some of the many off-road events and races hosted by Mexico. Who would not be excited to take their UTV down the world-famous Baja 1000 race course?
Going to Mexico with your UTV can be an amazing experience, but you will for sure want to protect your investment with an insurance policy backed by a carrier you can trust. Our underwriter/carrier HDI Seguros has a reputation for supporting the off-road community, and is the only insurance carrier in Mexico we would trust to support our UTV customers. Through HDI Seguros we offer full coverage off and on the trailer policies you can rely on. Not only does our HDI polices protect you and your UTV, they also cover third party liability and make you legal to be driving on the streets of Mexico.
UTV insurance coverages you can trust.
Physical Damage up to 40K
Total Theft and Fire coverage up to 40K
Third party liability up to 500K
24/7 legal assistance and bail bond
24/7 roadside assistance and towing
The reasons so many UTV owners choose us.
24/7 English speaking claims support
Backed by an A rated Mexican carrier
Full coverage and liability only options
Daily, 6 month, and annual overage options
High value coverage up to 40K
Claims and repairs handled in the US
How to buy the right UTV insurance policy for your trip to Mexico?
If you are not buying an individual policy on your UTV then you are not properly covered. Many people go online and buy a policy that includes their truck, trailer, and UTV without knowing that policy is only a towing policy. This means when you take your UTV off the trailer you have ZERO coverage.
Our online portal allows you to buy a towing vehicle policy (truck, trailer, UTV) and a separate full coverage UTV policy all in one fast and simple transaction. W e make sure you and your assets are covered the right way.
Simply start with an auto policy and add the trailer and UTV to your policy. Our system will ask you if you want full coverage on your UTV. You simply click YES and you will be prompted to add its coverages. If you choose no you will only purchase a towing policy, which means your UTV is not covered when you remove it from the trailer.
You will receive your towing policy and UTV policy emailed to you in just a few minutes. We make it very easy!
If you already have a policy on your truck and trailer you also have the option to just by a single full coverage policy on your UTV.
FAQ's about taking your UTV to Mexico:
Do I need to buy Mexican insurance for my UTV?
It is the law to have Mexican insurance while driving in Mexico. Having Mexican insurance not only protects you but also protects others that you share the road with. Without insurance you are automatically guilty for not following the law. UTV's are also pretty easy to steal. You are taking a huge risk by not insuring it.
Do you insure all brands of UTVs while in Mexico?
Yes, we do. We offer full coverage policies for all UTV brands.
What do I need to cross my UTV into Mexico?
When you get to the border to enter Mexico you will be asked for your registration. The Mexican agent will match the VIN numbers on your registration to the numbers stamped on the UTV frame. They do not like titles or certificates of origin. They want a registration and they want the original. Before heading to the border it is very important you make sure your documents are all in order. They will also match VIN numbers on your trailer, and tow vehicle. To cross the border as fast as possible we always recommend to our customers to kill them with organization. Have all your registrations ready to hand them to the agent to be reviewed all at once.
Do I need to wear a helmet when off-roading in Mexico?
In Mexico, you are required to wear a helmet. Many people do not follow this law and sadly it is a law that is not highly enforced. Law enforcement wants to see you wearing a helmet while on the highway if you do not have a windshield. They are concerned that insects or debris from the highway can hit or harm you and cause an accident. It is important to understand that driving UTVs can be dangerous and often you are very far from medical resources. It is very important that you protect yourself and your passengers.
Can I take gas or spare parts for my UTV to Mexico?
You can cross the the border with the tank of your UTV full, but you cannot cross the border with full separate gas containers. If you attempt to cross with full gas containers they will confiscate them at the border and/or deny you entry into the the country. You can take empty gas containers and fill them up once you cross the border. You can take spare parts but just be aware that often they will try to tax you for bringing too many parts into Mexico. We recommend keeping spare parts at a minimum and if possible take the parts out of the new box or wrapper. You are only allowed to cross one spare tire that must also be mounted on a wheel.
Does my UTV need to be street legal to drive in Mexico?
Your UTV does not have to be street legal to drive or insure in Mexico. We do recommend using hand signals when turning since most UTV's do not have blinkers. You also want to follow all the laws as if you were driving a traditional car.
Why does my UTV policy not include medical payments?
No insurance carriers in Mexico offer medical coverage on UTV policies. The reason is there is just too much risk involved. It is very important to be cautious and safe while driving your UTV in Mexico. Medical and emergency services are very limited in Mexico, especially when in remote areas far from major cities. The use of helmets, safety harnesses, and other protective gear is very important.
Any tips for driving UTVs on the roads in Mexico?
You need to treat a UTV like a traditional car when driving in Mexico. You need to follow all Mexico driving laws. We recommend using hand signals when turning or switching lanes since most UTVs do not have turn signals. Part of following the laws is having insurance. In Mexico it is the law that you must have insurance on all vehicles driving on the streets or highways. Our UTV policies make you legal to be driving on the roads and cover you against any accidents or liabilities. If you are in an accident with no insurance your UTV will be impounded. It does not matter if you were at fault or not.
Other Driving Tips:
Do not run LED lights light bars, pods, or chase lights on the highways or streets.
Be respectful. Slow down and keep the dust down when driving in neighborhoods, by houses, ranches, or other passing cars.
Wear your helmet, and harnesses/seat belts whenever on the road.
Come to a complete stop at all lights and stop signs.
If you open a gate close it.
Stay off private property.
Use hand signals when stopping and turning.
Hug blind corners. Most trails in Baja are used every day by locals to get to work, school, or to go shopping. If you can not see around a corner assume someone might be coming. Drive smart!
My state does not require me to register my UTV. What do I do?
Although many states do not require you to register your UTV they will still allow you to do it. Meaning you can still register it very inexpensively if you choose to. If you are going to Mexico we highly recommend registering your UTV so you can obtain an actual registration card. This will insure you successfully cross the border with no issues.
Do I need to have a whip or flag on my UTV when driving in Mexico?
There is no flag or whip law in Mexico. We see the use of flags and LED whips as positive and encourage anything that improves safety and protection.
Do I really have to insurance my trailer when I travel south?
In order for you to be properly insure we must add the trailer to the policy. Adding the trailer to your policy increases the cost very little. If you were to be in an accident with your trailer or if your trailer causes an accident and it is not on the policy you will be held accountable. It is a very small price to pay to make sure you are protected.
Is it cheaper to just buy an annual policy on my UTV?
There are huge discounts for 6 month and 1 year annual UTV policies. The rule of thumb is if you plan on taking your UTV to Mexico more than 20 days in a calendar year the annual policy is best deal. As of July 27, 2022 an annual policy on a 40K value UTV is $815.40 and the 6 month policy is $647.24
Should I carrier my registration with me in my UTV?
Yes. If you are pulled over by the police or you go through a police checkpoint it is not uncommon to be asked for your registration. We recommend always carrying your drivers license, FMM, registration, and proof of insurance with you.
Is roadside assistance included in my UTV policy?
Yes. If you are stranded simply take advantage of your HDI roadside assistance & towing. Each UTV policy includes up to $1000 in towing which is usually plenty of money to get you back to your hotel, your truck, or a mechanic shop.
Are the hotels in Mexico safe to park my UTV over-night?
Not all hotels are the same. Some hotels are safer than others. Some hotels have extra security features like security guards and security gates. We highly recommend staying at hotels that offer the best security measures. You can also take your own security steps by locking up your UTV using cables, boxing the UTVs in with another truck or car, removing your steering wheel, installing a GPS tracker, and/or installing a kill switch.
Will I have any gas issues with my UTV in Mexico?
There are many areas in Baja where gas is not available. It is important that you plan your routes in a smart way. There might be situations where you need to use a gas bag or rotopax to carrier gas with you. Another option is to have a chase truck readily available with gas. As you get farther south of the border you will also have issues finding premium gas or 91 octane. If you have a turbo car you might need to use a octane booster since your car requires the premium grade gas.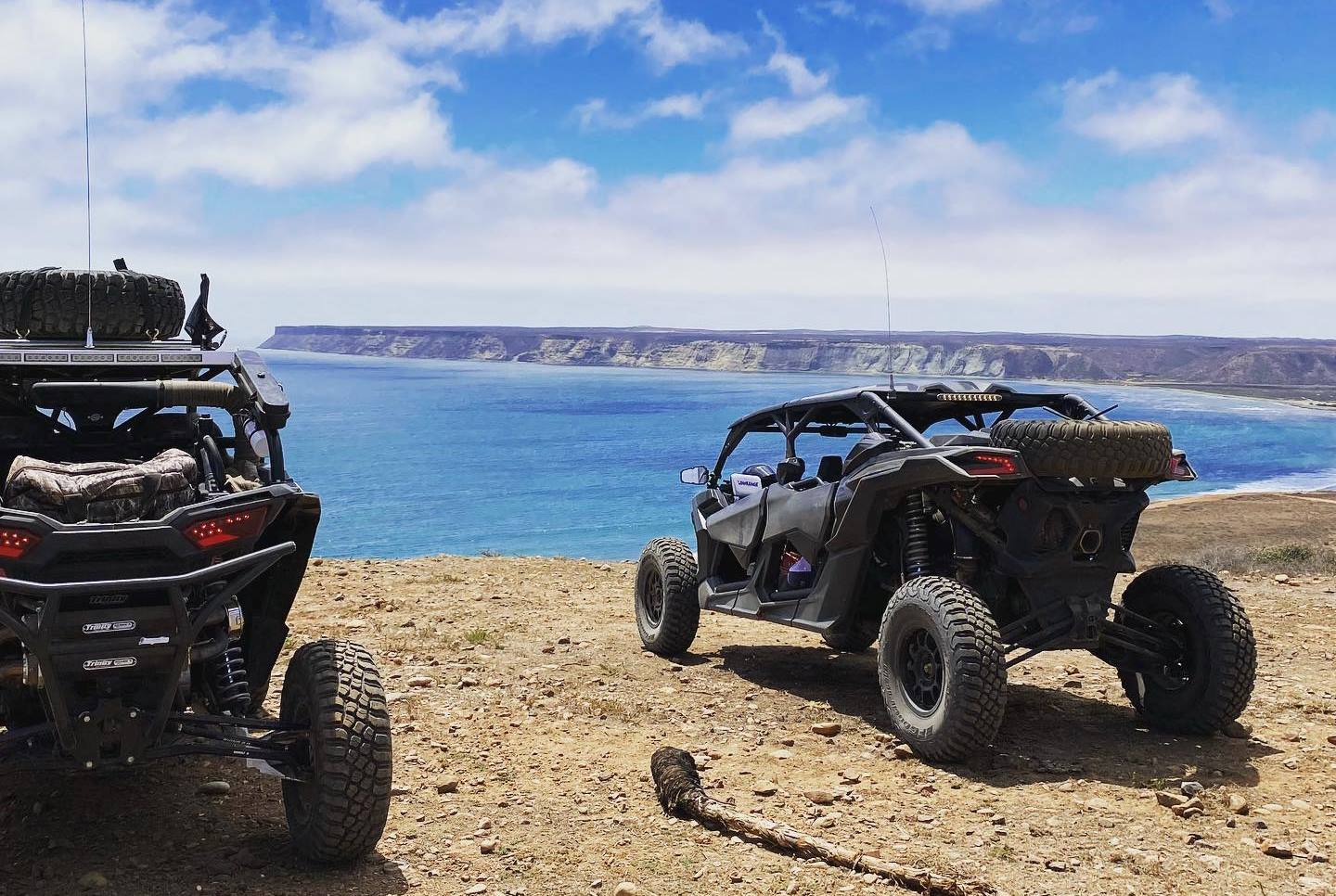 Off-roading in Mexico is a heart-pounding adventure that takes exploration to a whole new level. The diverse landscapes of Mexico offer off-road enthusiasts an exhilarating playground of sand dunes, rocky terrains, lush jungles, and rugged mountains that beg to be conquered.
From the iconic Baja 1000 route to hidden gems off the beaten path, Mexico's off-roading trails cater to all skill levels. Roaring through the undulating desert of Baja California or navigating the challenging trails of the Sierra Madre mountains, off-roading in Mexico guarantees an adrenaline rush like no other.
What sets Mexico apart is its unique blend of breathtaking scenery and cultural encounters. You might find yourself tearing through a pristine beach one moment and then cruising through a traditional village the next. The thrill of off-roading is coupled with the opportunity to immerse yourself in the local culture and savor authentic cuisine along the way.
Whether you're behind the wheel of a dune buggy, ATV, or a rugged 4x4, the camaraderie among off-roading enthusiasts is palpable. The shared passion for conquering untamed landscapes creates bonds that transcend language barriers, making every pit stop an opportunity to connect with like-minded adventurers.
The beauty of off-roading in Mexico lies in the unexpected discoveries – stumbling upon a hidden cenote, encountering local wildlife, or witnessing a mesmerizing sunset over untouched horizons. It's not just about conquering terrains; it's about embracing the wild spirit of Mexico while respecting its natural wonders.
So, if you're seeking a dose of adventure that marries adrenaline with cultural immersion, Mexico's off-roading trails are beckoning. Whether you're a seasoned off-road aficionado or a newbie craving a thrill, the Mexican terrain promises an unforgettable journey filled with excitement, camaraderie, and the awe-inspiring beauty of uncharted territories.